Logitech Z623 Speaker System with Subwoofer
Product Code: 980-000403
Availability:In stock
Have a question?
Price & Overview
Currently, Logitech Z623 price in Pakistan is Rs.44,995. Price can vary due to surge in exchange rate or market dynamics. Place your order now to enjoy fast nationwide delivery direct to your doorstep.
Key Features
THX Certified Sound with Deep Bass
400 Watts Peak/200 Watts RMS power delivers amped audio from this 2.1 speaker system.
Connect up to three compatible devices via the 3.5mm and RCA inputs.
Easily access all controls on the right satellite speaker.
THX Certified Audio
Designed to deliver the most accurate experience straight out-of-the-box. These THX Certified speakers are tuned to exact specifications to truthfully deliver the artist's vision right into your living room.
400 Watts of Powerful Sound
400Watts of Peak/200Watts RMS power delivers amped audio. This 2.1 system immerses you in crisp sound and thundering base whether you're listening to music, watching an action-packed movie or playing your favorite video game. Enjoy powerful sound that you can hear and feel.
Versatile Setup
Supports multiple inputs simultaneously including 3.5 mm and RCA inputs. Connect up to three compatible devices such as your game console, television and computer. No need to disconnect when switching between audio sources.
All Controls at Your Fingertips

Easily access power, volume, bass, headphone jack and auxiliary jack on the right satellite speaker.
Additional Features
400-WATT PEAK POWER
You'll hear and feel immersive theater quality audio that brings music, movies, and games to life.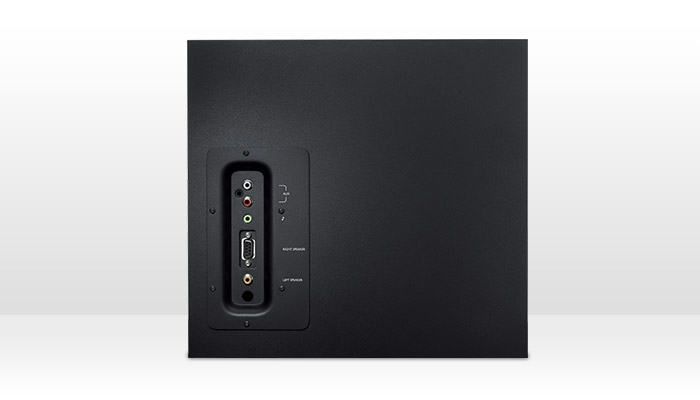 Multiple Inputs
Z623 speakers have convenient RCA and 3.5 mm inputs for music, movie, and gaming devices.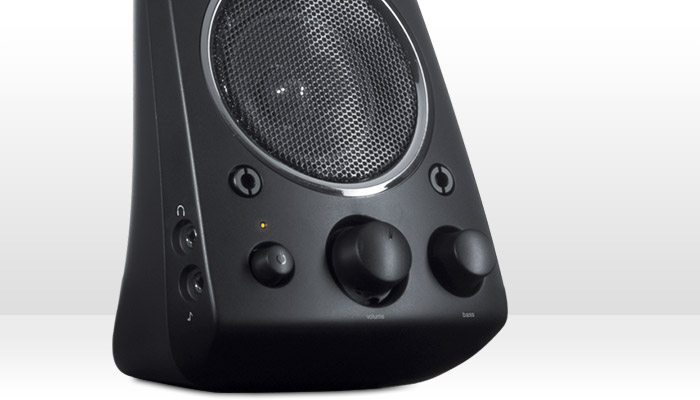 Integrated Controls
Dial the volume and bass up or down to customize your listening experience.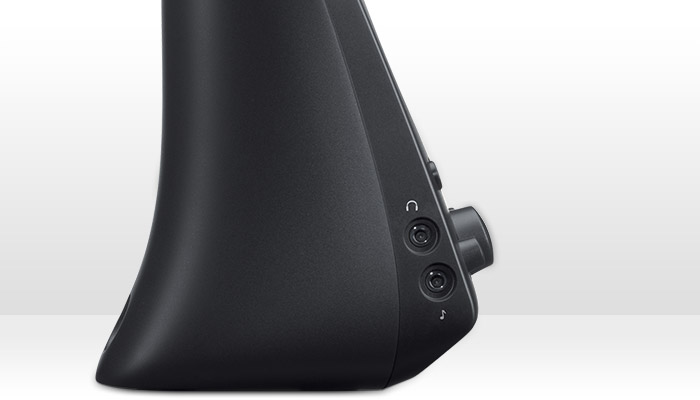 Built-in Headphone Jack
When you want to listen privately, just plug in your headphones.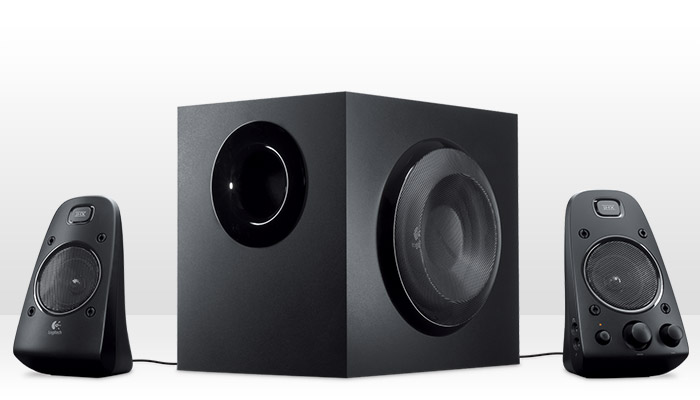 Powerful 2.1 Systems
Easy, two-satellite setup and a powerful subwoofer give you big sound—even in large spaces
Specifications
Dimensions
Subwoofer
Height x Width x Depth:
284 mm x 305 mm x 266 mm
Weight: 7000 g
Right Satellite (w/ controls)
Height x Width x Depth:
196 mm x 117 mm x 126 mm
Weight: 1000 g
Left Satellite
Height x Width x Depth:
196 mm x 117 mm x 126 mm
Weight: 950 g
System Requirements
Works with any device with either a headphone jack (3.5mm) or RCA inputs
Television
Computer
Smartphone
Tablet
Music player
DVD player
Blu-ray player
PlayStation
Xbox
Wii
Technical Specifications
Total watts: 200 W
Subwoofer: 130 W
Satellites: 2 x 35 W
5 mm input: 2
RCA input: 1
Headphone jack: 1
Controls: Power, volume and bass controls on right speaker
Package Contents
Logitech Z623 Speaker System
Subwoofer
5 mm audio input cable
User documentation
Reviews about Logitech Z623 Speaker System with Subwoofer